CB500 Soda Vending Machines
Cash price delivered: $3,565.00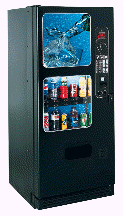 The USI / Selectvend* CB500 is a new mid-sized can/bottle vendor that offers ten selections of cans and/or bottles. The machine also offers a unique live display.
The CB500 measures 72 inches high, 31.25 inches wide, and 33 ¼ inches deep. Including the coin mechanism and dollar bill acceptor, the CB 500 sells for $3,565.00 including freight and delivery to anywhere in the continental United States.
Financing is available with no down payment and 36 monthly payments of $127.77 each. Payments begin thirty days after delivery.
» Download color brochure
» Request proposal
For more information, please contact Peter LeVine or any one of his talented colleagues at (800) 223-4101, (650) 493-2258, or contact us through our Info Request form
All vending machines are priced lower than the identical machines from Selectivend, USI, Fawn, or Federal.
Plus we offer:
Zero Down Financing
Lower Interest Rates
Questions? (800) 223-4101 or contact us through our Info Request form
*Vencoa is an authorized distributor of USI vending machines and is not an authorized distributor of Selectivend products.