CB700 Soda Vending Machines
Cash price delivered: $3,895.00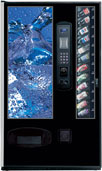 The USI / Selectvend* CB700 is our largest and most advanced soda vending machine. It can hold 12 selections of cans and bottles and has a total capacity of 728 cans or 322 bottles. The large number of selections and individual pricing offer the advantage of not only selling standard brands such as Coke and Pepsi products, but also water and fruit juice.
This soda vending machine measures 72 inches high by 42 inches wide by 33 ½ inches deep. The Selectivend* CB700 soda vending machines, with $1/$5 bill acceptor, sells for $3,895.00 plus applicable state sales/use tax. Financing is available with no down payment and 36 monthly payments of $139.87 each. Payments begin thirty days after delivery.

» Download color brochure
» Request proposal
For more information, please contact Peter LeVine or any one of his talented colleagues at (800) 223-4101, (650) 493-2258, or contact us through our Info Request form
All vending machines are priced lower than the identical machines from Selectivend, USI, Fawn, or Federal.
Plus we offer:
Zero Down Financing
Lower Interest Rates
Questions? (800) 223-4101 or contact us through our Info Request form
*Vencoa is an authorized distributor of USI vending machines and is not an authorized distributor of Selectivend products.